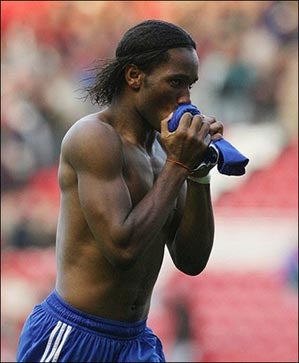 David Hirshey writes regularly for Deadspin about soccer.
Remember the good old days when you could enter a men's room and not have to worry about some closeted Senator in the next stall subtly caressing your foot or, in my case, a drunken git accosting me on Saturday morning at Kinsale Tavern? First off, what kind of pervert takes a leak next to you when there are two free urinals on either end, especially since I have such a well-known wide stance?
Of course, I should have known it would be a big, fat Chelsea fan; not just any big, fat Chelsea fan, but a hammered-out-of-his-skull big, fat Chelsea fan. Even so, I never imagined that he would taunt me while I was busy draining the dragon. "Hey, aren't you the guy from Deadspin who's always shitting on Chelsea?" he bellowed in my ear as I attempted to empty my tanks of the two beers I had enjoyed by 9 a.m.

For a brief moment, I thought about unleashing a Ben Thatcher-like, cheekbone-shattering elbow to his head, but I couldn't afford my second yellow card in the men's room. Then I considered saying "sorry, you're confusing me with Will Leitch" but that would never fly because everyone knows Leitch couldn't tell Avram Grant from Ulysses. Finally, I decided to take pity on the poor bastard.
"I know you've had a rough week, mate," I said with the noblesse oblige of a man whose team is undefeated and atop the league, "but it's early days and I'm sure you'll be in the hunt at the end."
Yes, the evil Russian cabal of Ambramovich, Shevchenko and Terryski may have thrown my man Mourinho under the Chelsea bus, but there are disquieting signs that neither the Special One nor the team he built in his humble image are terminal, despite what Didier Drogba says. The Ivorian famously claimed early in the week that "something is broken with Chelsea" and vowed to leave Stamford Bridge as soon as humanly possible. This did not sit well with the Blues faithful (the "kill me now" email from Unsilent Majority was, for once, not about the Redskins) who were already reeling from the news that their Premiership and European dreams were now in the hands of an underqualified schmoozer from Israel I like to think of as the Special Needs One.
Reading the tea leaves as well as the get out clause in his contract, Drogba had a change of heart two days later, pledging his loyalty to the team — at least until the end of the season. Then, as if to prove he wasn't just some opportunistic mercenary, he scored seven minutes into Chelsea's 2-0 victory over Middlesborough that vaulted the Blues into ... seventh in the table.
To be fair, something I rarely am toward Chelsea, they are only a point behind fourth place Liverpool, which got an early Christmas gift from the referee in their Merseyside derby with Everton when he somehow missed Carragher's impressive over-the-shoulder judo-throw of Lescott in the box during the dying moments of the Reds' 2-1 win.

If Chelsea is missing the intensity and ruthlessness that defined their play under Mourinho, it is of little concern to the Portuguese maestro. He is too busy focusing on his own comeback as both swordsman and savior. First, the tabloids revealed that he lived with a Pussy Galore-like blonde behind his wife's back for two years and that she thought he looked like James Bond (sure, and I look like Ron Jeremy). They also apparently liked to shake and stir to the musical stylings of Sting and Bryan Adams, but not at the same time.

But all that was forgotten after England went to Russia and did about as well there on the slick astroturf as Napoleon did on the frozen tundra. Losing 2-1 to the Russkies may have made Abramovich's heart soar, but it meant that England was just about out of the European championships and Steve McClaren was just about out of a job as their manager. Who better to ride to the rescue than The Special One, who certainly knows the English game as well as anyone and could probably use the $5 million salary to defray his divorce costs?
And who would be the cornerstone of this new English juggernaut that Mourinho would build out of the ashes of the Moscow debacle? Why, the very man who McClaren thought wasn't good enough to start against Russia and who was booed mercilessly by English fans when he came on as a substitute? Yes, Frank Lampard, who unlike Shevchenko and Terry, still bent over for Mourinho in the dark days before his exit. Wouldn't it be a fun twist in the tail, so to speak, if Lampard took over the captain's armband from Terry, who along with England and Chelsea defender Ashley Cole is said to be recovering nicely from his month-long injury.

It's all encouraging news for my hopeful new friend at the Kinsale urinal, but for now, I'm afraid, Chelsea is simply piss poor.