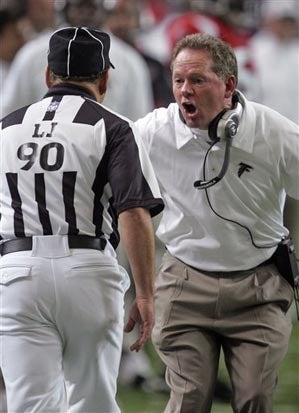 We remember, a few years ago, when Roy Williams (the coach, not the pizza delivery boy) left Kansas to coach North Carolina. That led to a cascade of coaching changes, with Bill Self at Kansas, Bruce Weber at Illinois and Chris Lowery at Southern Illinois. Four quality coaches, four quality programs. But it doesn't always turn out that way.
The Realests point out the carnage that resulted from Bobby Petrino heading to Atlanta. (To coach Ron Mexico! Ha!) Petrino is 1-5 with the Falcons. His replacement, Steve Kragthorpe, is a massively disappointing 4-4 at Louisville. His replacement, Todd Graham, has frittered away all the improvement at Tulsa, falling to 4-3. And his replacement, David Bailiff, is 1-6 at Rice.
If Joe Torre takes another job, we'll be tracking.
Coaching Carousel From Hell [The Realests]