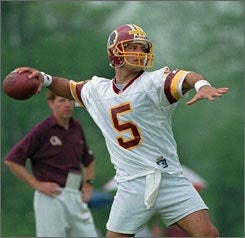 Stop Shuler, the site that unsuccessfully attempted to keep now-Congressman Heath Shuler from returning to Washington, D.C., would probably have a field day with this: Shuler was the quarterback for the Congressional team in a game against the Capitol Police ... and he got shut out.
Rep. Heath Shuler, a former NFL quarterback and Heisman Trophy finalist, had two of his passes intercepted. But the North Carolina Democrat, who coached the Members team and played QB all four quarters, was in good spirits after the game, smiling and laughing with officers.

"They're a very fast, very young team," Shuler said of the police. "You could tell they all had played [before]. But they were just having fun, just like us."
Seriously: The guy was playing a Capitol Police team and was shut out! He's a former NFL quarterback! Well, kind of.
Capitol Police Shut Down Shuler, 'Mean Machine' [Roll Call]