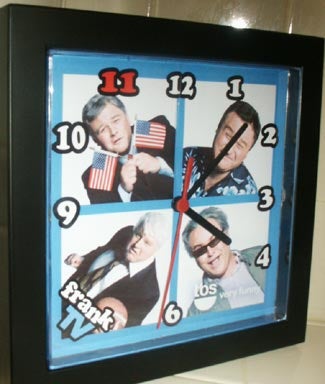 We know: You thought the end of the postseason on TBS meant that the promotional blitz for "Frank TV" had ended. You figured, jeez, we can just hope we remember whenever that show was supposed to start. (Sometime in November. We think.) But nope! They're just getting warmed up!
A reader sends in this promotional item his company received in the mail recently: It's the Frank TV clock. In case you wanted to see this guy every minute, of every day.
You see, John Madden? He's boisterous! Robin Williams? Energetic! Jack Nicholson? Full of himself! George Bush? Dumb! it's not easy to see into the soul of such enigmatic, elusive figures, and fortunately, we're gonna have a full hour show devoted to it ... every day! (Or every week. We haven't gotten that part nailed down yet.)
We feel obliged to apologize to Frank Caliendo, who we're sure is a nice enough guy and might even be kind of funny, in a different context, one that doesn't involve him being in our face every day for two weeks. Here we are, a week later, still reeling.