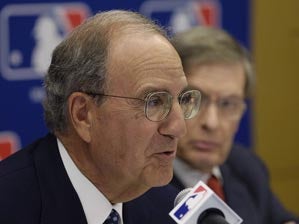 As Ken Rosenthal related in his column yesterday, one of the first things Paul Byrd asked after being interviewed about that whole HGH business was, "Isn't George Mitchell with the Red Sox?"
Mitchell has denied that he was responsible for the leak that happened right before Game 7 of the ALCS — he said, oddly, that he "had no prior knowledge of those allegations," which makes us think the Mitchell Report is going to suck — but it's perfectly reasonable, we think, to ask: Mitchell doesn't have any alternate agendas, does he? Don't get us wrong: We don't think he's going to be strategically releasing steroid names of Rockies over the next week. But because the whole investigation has been done in extreme secrecy, it's reasonable to wonder whether everything's on the up and up, who's leaking what, what's going on.
Because Byrd's right: He is a Red Sox guy.
Mitchell Investigation Raises Questions [Fox Sports]
Mitchell Report Petition [It Is High ... It Is Far ...]