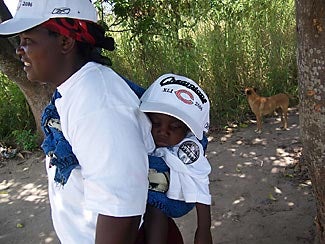 It is one thing to read about sports leagues giving away incorrectly labeled merchandise like "2006 World Champion Detroit Tigers" or "2004 American League Champion New York Yankees" to the needy in third world countries. It's another all together to actually see a child in Zambia wearing a 2007 Super Bowl Champion Chicago Bears shirt.
Jeff Fields and his colleagues at World Vision, an international Christian humanitarian aid group, will save the erroneously labeled clothing from the incinerators and, instead, send them to impoverished Ghanaians affected by recent flooding. It's an answer to a dilemma of a little-known corner of professional sports: what to do with all the unsalable paraphernalia of near-champs.

Since the mid-1990s, World Vision has worked with MLB to distribute counterfeit or mislabeled clothing to those in need rather than sending it to the big closet in the sky. It does the same with the National Football League (NFL). This year marks the first time that the MLB will contribute their postseason apparel to the group, not just fraudulently manufactured goods. Sporting-goods stores are also getting into the charity act. "It's great to have the partnership, great to not see these types of things being destroyed and being utilized for good rather than having to end up in a landfill or an incinerator," says Fields.
It's an extremely noble cause, worthy of all plaudits that come its way. But if you look real close, you can see this poor little tyke mouthing, "Grossman sucks."
All Those T-shirts Of Losing Teams? Off To Africa [Christian Science Monitor]