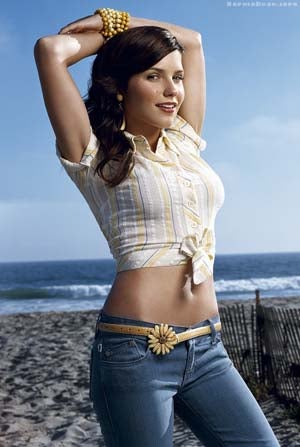 Why, why, Tony Romo? You and Carrie Underwood were so perfect for each other! And now this conniving temptress Sophia Bush comes between you? Is there nothing to believe in anymore?
At Terence Newman's house in Dallas, Romo played the new Xbox 360 game "Guitar Hero III" with actress Carmen Electra, who was playing the game online in Los Angeles. Romo was joined by what appears to be a new ... uh ... friend, actress Sophia Bush. She has starred in the TV show One Tree Hill and the 2007 movie The Hitcher. Romo struggled with the new game, which is scheduled to hit stores next week. Also on hand were Newman, running back Julius Jones, offensive tackle Marc Colombo, offensive lineman Cory Procter and safety Ken Hamlin. "I think she actually beat me," Romo said. "I'm actually a phenomenal guitar player."
Next they played the Xbox "Hold For The Extra Point."
Romo Learns That He's No Guitar Hero [Star-Telegram]

Tony Romo And Sophia Bush Now? [Larry Brown Sports]