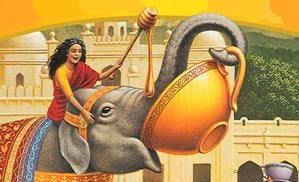 So you know those dumb mayoral bets made on every major sporting event, the ones supposed to show off the locally made products? Well, the Boston and Denver mayors made them this year ... and, as usual, they're dumb and full of corporate sponsorship.
Seriously, it's all just officially labeled merchandise.
To Boston: 100 Quiznos sandwiches

100 cups of Celestial Seasonings teas

100 servings of Great Western tortilla chips

100 servings on Epic Valley salsa

100 scoops Liks Rocky Road ice cream



To Denver:

100 cups Legal Seafoods New England clam chowder

100 cups Dunkin' Donuts coffee

100 Dunkin' Donuts Boston Crème doughnuts

100 "Curse Reversed" ice cream bars from Brigham's Ice Cream

12 pints "Boston You're My Home" ice cream from Brigham's Ice Cream
Someday, we will see our dream of one city betting their homeless problem against another city's crack epidemic.
Mayor Hickenlooper, Your Tea Bet Could Have Dire Consequences [The Sports Oasis]