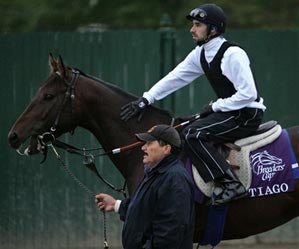 We only have space in our heart for one horse, so we can't get too much into the Breeder's Cup this weekend.
But some can, so, a preview. After the jump, we turn to Angelo Grasso, author of the racing blog Racing Esoterica and co-author of the Gowanus Rotisserie Baseball Gazette.
—————————
The closest analogue in the sports world to thoroughbred racing is one that's obvious but never made —- boxing. Both were enormously popular 80 years ago and have fallen on hard times for reasons mostly their own doing. Both lack central organizations and have a dozen different factions shooting themselves in the feet while trying to make a buck instead of organizing the sport. Both have had problems related to suspicions of fixing. I will not attempt to draw a parallel between Don King and Frank Stronach (owner of Magna Entertainment and 1/3 of the notable U.S. tracks); that's just cruel and wrong.
And the biggest similarity between the sports is the presence of a dozen divisions of horses competing for different glories. While boxing differentiates between the flyweight, heavyweight and welterweight, racing gives out Eclipse Awards based on combinations age (2 years old, 3 years old, Older), sex, surface (dirt, turf), distance (sprints versus routes) and at the end, the coveted Horse of the Year prize. With somewhere around 100,000 horses racing across the continent, how the hell do you determine who's the champ in every division? And how do you make people think about horses that aren't in the Triple Crown races?
Unlike boxing, horse racing has done something about it: for the past 24 years, they've held the Breeders Cup, which offers ginormous purses ($1 million and up) for all the relevant divisions. What started off as seven races on a gloomy Saturday afternoon at decrepit Hollywood Park and then at Aqueduct Racetrack/Holding Facility has blossomed into a true carnival of racing, as the top contenders in the main divisions travel from around the country, Canada, Europe and (occasionally) Dubai to a host track (which changes every year) to duke it out for a final shot at the Eclipse Award. Think of it as hosting a series of championship bouts over the course of a weekend, where you'll know the names of a few running (generally in the Classic, where, if you're lucky, we'll find some survivors from the Triple Crown), and the rest of the races present great exhibitions of champions at the top of their game, it's just that nobody has ever heard of Nashoba's Key or Kip Deville.
The upside for all the spectators? You get to bet on the outcome (legally!) and make some money off watching great racing. Yes, unlike every other sports in the U.S., you can bet legally from your local track, OTB, simulcast parlor, and if you don't live in Utah, your living room. This is the great edge racing has over most sports that it hasn't figured out how to exploit—-it's the only sport where you can't get into any trouble for betting, and where a $50 bet can yield you better than 10-11 odds. Hell, some guy from South Dakota turned $8 into $3 million in 2003 by correctly picking the winner of six straight races, all by listening to my best friend Andy Beyer. So if you find a winner through this post and strike it rich...you know how to find me.
In this vein of expanding the kitty, and fully knowing that the public has an insatiable appetite for horse racing, this year the Breeders Cup decided to add a second day of racing and three extra races: a sprint for females that can't hack it with the boys; a dirt mile race for horses to slow for the Sprint and too faint of heart for the Classic; and a turf race for two-year olds that makes absolutely no sense. This may all seem asinine, but it's three more chances to play the trifecta. And why not? Word is that over the next few years, there will be additional races thrown in for other minor divisions, which can only lead to drain the bankrolls of horse players further.
I'm not going to go into the chances that each and every horse has in the 11 races... we're previewing all the races at Racing Esoterica, and if you're divinely curious as to what kind of a shot Shaggy Mane has in the Filly & Mare Sprint, that's the place to look. Instead, here's a look at the most interesting storylines, subplots, and races to follow over Friday and Saturday.
• The most brilliant horse that you've never heard of, Discreet Cat, runs in the Dirt Mile on Friday afternoon, where he tries to salvage his reputation after a last-place finish in the Dubai World Cup and a blasé third in the Vosburgh. Prior to those affairs, he was nothing shy of a phenom with boundless talent; check out his return to the races after a trip to Dubai in August 2006, or his insanely fast Cigar Mile win last Thanksgiving weekend. If he repeats those efforts, he wins in a walk. If he's still feeling the ill effects of a throat malady, he's going to disappoint and burn a lot of dollars.
• After Street Sense because the first horse to win the Breeders Cup Juvenile (the race for 2 year old colts) and the Kentucky Derby and break the "Juvenile Jinx", the instinct is to look to this year's Juvenile for next year's Derby winner. Sadly, you're more likely to find the next Anees than the next Street Sense here; it appears to be a fairly unimpressive group of horses, save for Tale of Ekati, who might be something special.
• The Breeders Cup travels to Monmouth Park for the first time this year, best known for offering Fast Times at the Jersey Shore and for the impeccable race calls by track announcer Larry Collmus. Monmouth is gorgeous, temperate and lovely during the summertime. This Saturday? Forecast calls for rain, clouds and temperatures in the low 50's. Sounds like a great time to be on your couch, instead of in your $200 seat.
• The undefeated filly, Nashoba's Key, tries to go 8-for-8 and stake a claim to Horse of the Year with a victory in the Filly & Mare Turf. Let's note how difficult this task is going to be. Horse of the Year generally goes to the top 3 year old colt or older male horse of the year. The recent exceptions (Azeri, 2002; Favorite Trick, 1997) caused outcries from the racing world, citing the end of racing civilization as we know it, and conveniently forgetting that a turf star named All Along won the Eclipse in 1983. Naming a turf filly Horse of the Year this year would be roughly the equivalent of naming Hanley Ramirez NL MVP this year—deserved in many respects, but really not to be expected from the voting powers.
• A series of tear-jerking stories on ESPN about some jockey who came back from alcoholism, wife beating, drug abuse or a hideous accident to triumph in the face of adversity, or a trainer who worked the checkout counter with Kurt Warner and now has a great horse. What, you think the Olympics have a monopoly on sappy crap?
• Speaking of ESPN stories, the kids at E:60 should have a field day with investigating all the troublemakers surrounding this year's cast of characters. Dylan Thomas, the staunch favorite in the Turf, is not getting his regular jockey Kieran Fallon, due to charges of race fixing in Ireland. Patrick Biancone, who has multiple strong contenders this weekend, just accepted a 1-year ban from the track after cobra venom was found in his barns. And then there's two of the owners of Preakness winner Curlin, who are facing jail time for robbing phen-fen plaintiffs out of a settlement. And let's not mention the suspensions served in the past two years by prominent trainers Todd Pletcher, Steve Assmussen and Richard Dutrow. Sadly, it's unlikely we'll have the Drexel boys scamming the Pick Six again.
• At least 3 favorites bombing badly (most likely suspects: Indian Blessing in the Juvenile Fillies; War Pass in the Juvenile and Midnight Lute in the Sprint), and a longshots taking at a minimum two races on the day. There hasn't been a Breeders Cup since 1998 where fewer than two horses at 10-1 or greater prevailed. If you're looking for a few prices to throw some ducats on to make this month's rent, take a close look at Lahudood in the Filly & Mare Turf (10-1 morning line), Balance in the Distaff (20-1 morning line) and Grand Couturier in the Turf (10-1 morning line).
• And finally, the closing battle between this year's Derby winner, Street Sense, and this year's Preakness winner, Curlin. Both followed those up with a pair of good victories in the Travers and Jockey Club Gold Cup, respectively, and are squaring off for the last time before Street Sense goes off to stud in Kentucky and Curlin gets partitioned as part of the phen-fen lawsuits. Taking them on are Derby runner-up and total speedball Hard Spun, older horse stalwart Lawyer Ron; the second-half bloomer Any Given Saturday (an apt hunch pick if you're a BCS lover, and who isn't?), and European curiosity George Washington, a turf horse trying the dirt for the second time in his career. Sadly, all that's missing is Belmont super-filly Rags to Riches, who's on the sidelines with an injury for the rest of the year. I like Street Sense to prevail in a hotly contested finale to a fun weekend of racing.