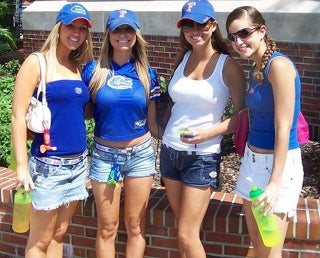 Amateur athletics and gambling go together like bacon and hot fudge. Each weekend I will share some of my valuable college football gambling wisdom with you, the reader. Just remember, most of said "wisdom" comes from years of losing ridiculously speculative bets; when you lose all your money don't blame me (blame Will!). Check out the details after the jump.
This week we've got a positively succulent little three-team wager paying $120 on a $20 investment.
West Virginia -6.5 at Rutgers
The Mountaineers are back on track and they're fucking awesome. If there is a God they-along with Oregon-will supplant Ohio State and Boston College into the top spots in the BCS rankings (after Florida beats LSU in the SEC Championship and a bunch of other teams lose).
Kentucky -14 vs. Mississippi State
The Bulldogs are going to get thrashed by another superior offensive team. Andre Woodson is easily my third favorite quarterback in the country. He's managed to overcome a throwing motion that makes him look like an actor playing a star high school quarterback and he's done it with aplomb.
Florida -7.5 vs. Georgia
The Gators own the Bulldogs (not in the traditional southern manor) so thoroughly that one must wonder if the Georgia players have been partaking in the pregame festivities. Tim Tebow will happily lumber through their drunken embraces on his way to the Yale Club (or wherever they're hosting the Heisman this year).
Good luck and enjoy your day.
Photo via Poon of the SEC