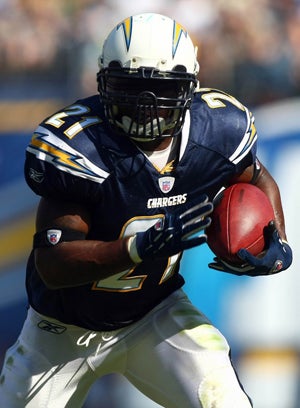 Brett Favre joined Dan Marino as the only quarterbacks in NFL history to throw for 60,000 yards during the Packers' 34-0 shellacking of the Vikings today. (Yes! I started the GB defense this week!) Adrian Peterson injured his knee thanks to an Al Harris helmet shot, but Jesus eventually rose and made his way to the bench. Expect Big Daddy Drew to announce a cool $37.62 bounty on Harris's dreadlocks by noon tomorrow.
In other noteworthy news: Joey Harrington found Crumpler for a last second Falcons win over the Panthers; Big Ben and McNabb pulled off a few second-half heroics to lead the Steelers and Eagles to victories, respectively; and the Bills won their fourth in a row on a 34-yarder via Ryan Lindell's foot. It was a nice 'lil buffet of one o'clockers, actually.
Checking in on the current action: Reuben Droughns' 1-yard TD run has given the Giants their first lead versus the Cowboys; Kurt Warner's got the Buzzsaw That Is The Arizona Cardinals moving the chains; and Da Bears and Raiders are trying hard to out suck each other.
But hold on, there's more! If you promise NOT to tell a friend about that ugly Bears-Raiders game, Madden and Co. will throw in an Indianapolis at San Diego game ... FREE!
Can the Colts bounce back from their tough loss to The Greatest Team Ever? Can the Chargers give up 300 yards to Joseph Addai? Who knows? That's why we watch the game, folks. Enjoy it.