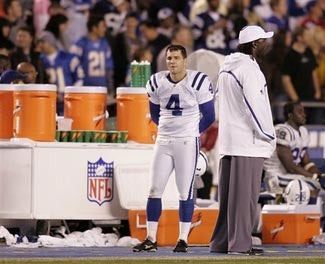 Tidbits and info smidgens from Week 10 in the NFL ...
• A little part of us has always thought that Colts kicker Adam Vinatieri should have retired after the last Patriots Super Bowl. Kicking is a weird business, and sometimes people lose all their abilities for no apparent reason. (We remind you that Mike Vanderjagt, exactly one year ago, was the most accurate field goal kicker in NFL history. He is now out of the league.) Vinatieri could have been a hero forever, a Hall of Famer. Now he is subject to the winds of fate — even those indoor, dome winds of fate — that any kicker is subject to. Sorry, Adam.
• If good ole Horse Balls Anderson could have pulled off a road upset of Pittsburgh yesterday, we'd have those balls bronzed. (It would be fun and educational!) Even with their loss yesterday, the Browns are becoming personal favorites; we could watch that kickoff return for a touchdown all day.
• How perfect, we think, it would be if now Rex Grossman came back and rescued the Bears, sending them on a six-game winning streak? That would make us so happy.
• Life as a Saints fan is frustrating enough, but once your team is finally turning it around, they collapse against the NFC's only winless team. But hey, it's time to have Bulger fever again. We suppose it's easier to play well when all your ribs aren't cracked.
• Buzzsaw! Realize, friends, that if Seattle loses tonight — unlikely, but still — the Buzzsaw will be tied for first place. Yes indeedy.
• We are already weary of any and all Patriots-Cowboys Super Bowl discussion. We beg it all to stop.
• After seeing how electric the place gets for a random Jets game in September, we really, really wish we were going to the Bills-Patriots game next Sunday. That place is going to tear itself apart. We fully expect the Bills playing the game of their lives ... and then giving up 35 points in the fourth quarter.