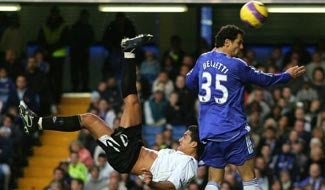 David Hirshey writes regularly for Deadspin about soccer.
Seven years ago, in a moment of madness akin to Josh Brolin thinking he could get away with a black suitcase packed with $2 million in No Country For Old Men, I attempted a bicycle kick in a game against a team 10 years younger than mine. Is it any wonder that I' m approaching the once unattainable Rush Limbaugh painkiller record?

Not a day goes by where I don't feel a sharp twinge in my lower back reminding me of the sickening thud when I came down to earth (or in this case Astroturf) and neglected to break my fall with my arms. Even though I'm proud to report that my shot hit the post to the slack-jawed amazement of my teammates, the question still begs: What the fuck was I doing levitating my body as if I pedaling upside down like Floyd Landis?
I was thinking of my insane hubris this past week because, suddenly, bicycle kicks are all the rage. First Taylor Twellman pulled a beauty out of his ass to beat Chicago and give the Revolution a spot in the MLS championship bore-fest this coming weekend. And then yesterday, Everton's Tim Cahill produced one even sicker in the final seconds of the Toffee's 1-1 draw with Chelsea.
Sure, there were other SportsCenter-worthy moments over the weekend — if, in fact, Sportscenter showed soccer highlights other than the occasional Italian fan getting shot to death by police. For instance, this column could have been all about how Christiano Ronaldo is showing once again why he is not simply a horndog fashionista model but the best hope that a Rooney-less ManU team has of keeping pace with Arsenal at the top of the Prem. Or it could have been about how Fernando Torres, Ronaldo's chief rival in the Pretty Boy With Dazzling Skills Sweepstakes is finally justifying his $50m price tag with the kind of gorgeous goal he scored for Liverpool in its 2-0 defeat of Fulham. If I were a total homer, it could even be about the best high school soccer team I've ever seen — my friend Martin Jacobson's Martin Luther King juggernaut that won its 10th New York City Championship in the last 12 years yesterday in a dramatic penalty kick final .
But that wouldn't be fair to Twellman and Cahill, both of whom conjured a piece of skill so acrobatic and stunning it made my bike in the box (don't miss my duet with JT on SNL) look like it had training wheels. I've never been a big fan of Twellman's, even though as Cardillo argued in a recent post, he is one of the all-time standouts in the MLS. To me, he embodies all the attributes and limitations of the prototypical American player—-great athleticism allied with only half decent skills. That combination may lead to all kinds of heroics in the MLS, but as we've seen in his lackluster appearances for the national team, it falls a few studs short of a full boot on the international stage. Still, a bike is a bike, and Twellman deserves props for both his ruthless opportunism and unexpected panache.
When Chicago Fire defender Dasan Robinson failed to clear a cross from the Revs' Well Thompson in the 38th minute and headed the ball straight up in the air, Twellman had the stones and presence of mind to catapult himself off the ground and in one seamless motion windmill the ball over his horizontal body and send it skipping past the Fire keeper Matt Pickens into the net.
And yet not to be a spoilsport, but Twellman's goal looked like an upside-down toe ball compared to the overhead exorcet that Cahill sent screaming into the net. Up to that point the Chelsea-Everton game was so dreary that it's a wonder any of the regular Deadspin degenerates at Kinsale looked up at the screen given how absorbing our on-going conversation about masturbation was.
Let me explain: one of my mates who I shall call Mr. Toffee (because he is a life-long Evertonian and he has a wife and kids I want to protect even if he doesn't) is working on a Ken Burnsian documentary on how today's generation of Twentysomethings choke the chicken. By way of illustration, he told the story of a guy he recently interviewed whose father forbade him from bringing porn magazines into his religious household.
So the kid would stash the magazines in a tree in Riverside Park near his home and late at night, wearing all black and camo, would risk his life by entering the dimly lit park, climb up into the tree and knock one off. "Wow, "exclaimed Relegation Zone Mikey, " a tree-beater." Not to be outdone, RZM regaled us with how he found his father's Beta porn tapes in his parent's bedroom and was thus introduced to the wonders of Seka. "She was quality," RZM said, noting that Seka was the Jenna Jameson of the late 80's, " I would bag a hat trick in the first half hour." Either RZM was inflating his numbers or he's a quicker on the draw than any of the strikers on his beloved Tottenham.
Just then on the big screen, Everton's Cahill launched himself over Javier Belletti in the box and in terms of pure technique, executed the perfect bike, the ball flying off his instep with tremendous power and nestling in the back of the net.
"Now that," exulted Mr. Toffee, leaping off his bar stool and doing a little victory jig, " is what I'd call a real money shot."