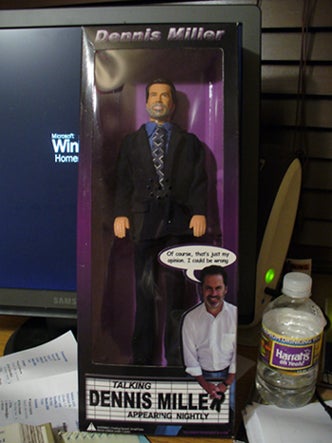 My Talking Dennis Miller Action Figure arrived in the mail today, and I'm happier than Wink Martindale on the Island of Topless Double-D Spokesmodels. Although on close inspection Talking Dennis more resembles the guy who sold me my term life insurance. So far I haven't been able to find the button that makes him talk, although I'm sure that Rupert Murdoch can show me where it is.
Yes, Sports Unfiltered With Dennis Miller lurched gloriously into Week 2 on Tuesday, proving that the writers strike is only something to worry about if you have writers. There's something depressing about Sports Unfiltered being the only talk show in live production right now, but then we knew that Dennis isn't exactly Tom Joad when it comes to labor issues. Neither is Charles Barkley, evidently, who was the first guest.
Guest Numero Dos was Ultimate Fighting Championship president Dana White, whose sport is — surprise! — featured on Versus! The UFC is something that Miller would have vivisected with relish in his stand up act, but since Versus features Ultimate Cage Fighting, this exciting sport is the next big thing, babe! (Actual quote: "There has never been a recorded death in UFC history. What's your secret?").
But we barely scratch the surface. Let's go to the vital statistics.
• WTF Statement of the Week: "YA Tittle suited up in a moth bucket while wearing Capri pants."
• Word of the Week: Labraoodle.
• Outright Lie of the Week. (Concerning the Tahoe Celebrity Golf Tournament): "I'm going to try and come back this year."
• Event of the Week: First Annual Toon Town Open.
•Questionable Simile of the Week: "Played more often than a Goonies DVD at Michael Jackson's place."
• Team of the Week: Tampa Bay Suck Weasels.
• Other references: Hope and Crosby ... the Androgeny Cup ... auto fellatio ... Darrel Imoff ... Chuck Bednarik ... Shula's Catfish Hut ... Shula's Pastry Emporium ... Church of Shula Jesus ... Cannonball Run III ... Travis Henry ... Sen. Larry Craig's Quick Recall Sperm Bank ... George Will ... Andy Reid's breakfast calzone ... purple nurples.
• Brandon Lang Pick of the Previous Week: Vikings plus 6 1/2 over the Packers.
The highlight for me, however, was during the Ask Dennis segment, in which a guy named Bob asked a videotaped question about something or other. Dennis paused and noted: "Bob kind of threw me off there. He seems to be going bald up front, yet his hair is long in the back." Yeah, hilarious. Not everyone can afford hair plugs like you, cha-cha.