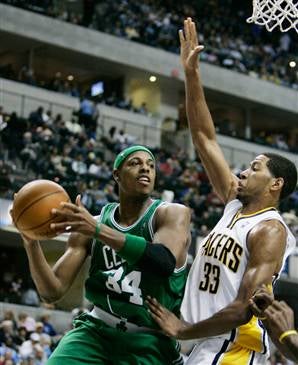 All of this talk about the Boston Celtics setting an NBA record for wins in a season has me a little disoriented; seeing that they've only played six games, and Scot Pollard and Leon Howe are on their roster. Could Boston actually best the 1995-96 Bulls' NBA-best record of 72-10? It's ludicrously early to speculate on that; I'm not even totally sold on the Celtics winning their division.
Get back to me in March, when the Celtics have completed a five-game road trip that features consecutive games against the Spurs, Rockets and Mavericks. Then we'll know what we're dealing with. For now let us simply note that Paul Pierce scored 31 points (including 14-of-14 from the line) as the Celtics moved to 6-0 with a 101-86 win over the Pacers. Kevin Garnett had 18 points and 11 rebounds as Boston matched its best start since the 1987-88 season. The Celtics won 14 straight to begin the 1957-58 season. The '95-96 Bulls started 41-3, by the way. In conclusion, the Celtics have to go a long way before upstaging the majesty and spectacle that is the New England Revolution.
• Bruce Bowen. Know Him. Love Him. Fear Him . That day that Bruce Bowen surpassed Kobe Bryant as the best player in the NBA* came without warning, Bowen shooting 6-of-6 from 3-point range and holding Bryant to 18 points as the Spurs beat the Lakers 107-92. Bowen scored 23 points, after having averaged 2.9 points per game before Tuesday. San Antonio has won four straight.
• An Evening At The Improv. And now it's time for the comedy stylings of Pat Riley. "Me? Play. I guarantee you I should suit up. I'd play better than some of them right now,'' Riley said Tuesday after his Heat lost to the Bobcats 91-76. "I guarantee it. I swear to God. With an old hip and 62-years-old and I can't see, I'll play better than some of my guys tonight. Come on, they were pretty bad.'' Thanks folks. Tip your waitress and drive safely, in that order.
• Blazers Glide To Victory. Now it is time to discuss the Portland Trail Blazers, who got a pep talk from former Blazers Clyde Drexler and Jerome Kersey before beating the Pistons 102-94. "I want that. I want to be Rip City again,'' said guard Brandon Roy, recalling a phrase from the Blazers' past. I'll take his word for it. LaMarcus Aldridge had 22 points and 10 rebounds as Portland broke a four-game losing streak at the Rose Garden.
* = Writer's embellishment.