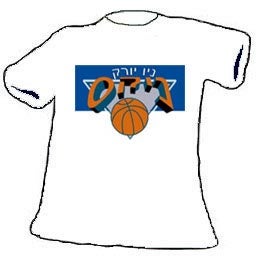 We are just a few weeks away from the unusually early start of Hanukkah, and we ask: What do you get the Jewish sports fan who has it all? (That is to say, "control of the media.") How about pro sports memorabilia in Hebrew?
What better way to show your Isiah Thomas loyalty?
We are thrilled to present our newest product line: t-shirts and sweatshirts featuring the logos of all the world's major league sports franchises in Hebrew! What's your favorite team? The Giants? Mighty Ducks? Maple Leafs? Manchester United? Whatever your favorite club is, and whether it's football, baseball, basketball, hockey, or soccer, we got your gear! You get the logo with the team name transliterated into Hebrew.
Honestly? We desperately want a Charlie Ward Knicks jersey in Hebrew. There's something beautiful about that.
Major League Shirts In Hebrew [Judaica Web Store]