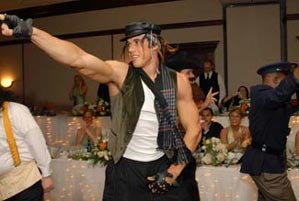 What could be a more attractive way to spend early 2008 that a Dance Revolution Party with Brady Quinn? You could have that chance!
Gillette wants you to come hang out with Brady Quinn in New York.
Four lucky people can win a meeting with the hottest man in the NFL in New York as part of a Gillette promotion with Facebook.

Fans need to upload photos or videos of themselves with their "game face," which I assume to mean how fans get ready to watch their favorite games. Quinn helpfully outlines the rules in a short video on the Gillette site; there's also a behind-the-scenes video that shows him getting makeup applied and looking all lathered up. The contest ends Dec. 3, and the winner gets to take three people to meet Quinn in New York.
You can upload your videos here. If enough of us submit videos, dammit, someone from this odd Deadspin planet has to win, right?
Win Face Time With Brady Quinn [OutSports]