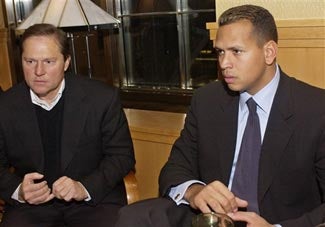 So, after all this, after the whole stupid thing ... it's becoming apparent that Alex Rodriguez might end up crawling back to the Yankees after all. And without Scott Boras.
A person close to the Yankees said this morning that Rodriguez, through an intermediary, told the Yankees that he wants to talk with the team about a new contract agreement without the involvement of his agent, Scott Boras. The person spoke on condition of anonymity because no deal has been reached.
Look out, Yankees: It's a trap! A-Rod's a trojan horse Boras is sending in to drive the price up. Clearly, you all should know this by now; it's not just buyer beware, it's bidder beware.
Rodriguez Might Talk To Yankees Without Agent [New York Times]