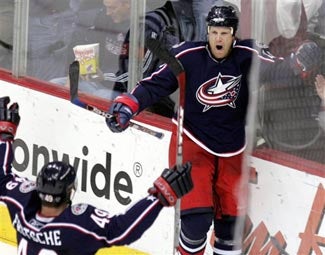 It's the NHL Closer. We pass the mic to the kids at Orland Kurtenblog. Their NHL Closer is written by Canadians for Americans.
Beware the BJ. Columbus moved into second in the Central — and fourth in the Western Conference — with a 4-2 victory over division rivals Chicago. It was a bittersweet night for Jackets' forward Jason Chimera, who registered two points but was slain by a red elf.
Rangers Score Four, Bring Season Total to Eight. The league's lowest-scoring outfit - *cough* 86 million for Scott Gomez and Chris Drury *cough* - exploded for a 4-2 win in New Jersey. Marc Staal got his first NHL goal, ruining an impressive outing from Jamie Langenbrunner, who scored twice in his season debut.
It's French for "The Cavalier." You cannot stop Vincent Lecavalier — you can only hope to contain him. Or so it goes for the Hurricanes. A five-point evening from Lecavalier (seven points in his last two against Carolina) paced the Lightning to a 6-1 waxing of Les Canes. And while he may seem better than us, the NHL insists Lecavalier is just like me and you.
One Point For Hull. On the same day they announced The Golden Brett as interim co-general manager, the Dallas Stars battled back from a two goal deficit before losing to San Jose 4-3 in a shootout. The Hull move didn't seem to motivate Marty Turco you suck; his massive stickhandling gaffe led to the Sharks' opening goal.
Soc-cer? The Canucks-Oilers game was devoid of a few things — goals, assists, consciousness (NHL closer: asleep after the second). Alex Hemsky scored the lone shootout goal to win it for the Oil; he celebrated by feigning injury and rolling around in the grass. The less time we spend recapping this game, the better. Bariaga was phenomenal for Vancouver.