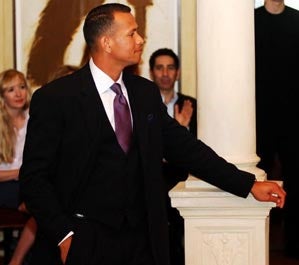 So, after all that, after the World Series "breaking news," after Scott Boras' posturing, after it all ... A-Rod's probably gonna end up a Yankee after all. A-Rod is apparently getting his publicity advice from Kobe these days.
And don't worry: Even without Boras at his side, A-Rod's not gonna be poor.
Rodriguez and Yankees officials have been working toward finalizing a new 10-year deal worth approximately $275 million that will keep the two-time MVP in pinstripes for the duration of his Hall of Fame career. The two sides are expected to meet Thursday in Florida with the hopes of finishing the deal. According to one source, agent Scott Boras has not been involved in the talks.
We can't help but wonder how this will affect Boras, not just in his interactions with A-Rod, but with all his clients. It's Boras' most high-profile failure, with his most high-profile client. It's sad when a couple that you've always felt were in love break up.
A-Rod, Yankees Closing In On Deal [New York Daily News]