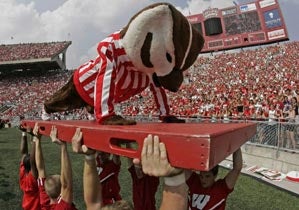 We've already played with "Who's Sorry Now" earlier this morning, but we couldn't help but point out this particularly bit of humiliation: A college hockey player has to write a letter of apology to a mascot.
Joe Finley, a player for the University of North Dakota, apparently smacked Wisconsin's Bucky Badger with his stick during a fracas the other night. And now, a price shall be paid!
Finley has been sent to the principal's office and the verdict is in - Big Joe must write a letter of apology to Bucky Badger. Seriously.
Just to be mean, Finley should seal the envelope tight. We'd love to see Bucky try to open it, and then collapsing in frustration. Damned non-opposable thumbs!
Joe Finley Less Popular In Wisconsin [Japers' Rink]