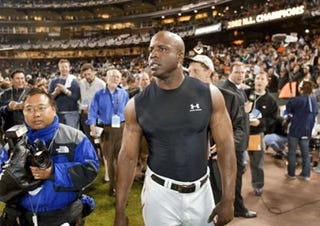 Well, just when you thought it was safe to bid on a guy who injected cattle steroids: Barry Bonds has been indicted by the BALCO grand jury.
Major League Baseball's all-time home run king Barry Bonds was indicted Thursday on perjury and obstruction justice charges.

The five-count indictment — four counts of perjury and one of obstruction of justice — capped one of the longest federal grand jury investigations in Northern California history — a proceeding that introduced the sports world to the acronym BALCO (Bay Area Laboratory Co-Operative) and led to the downfall of American track and field world and Olympic champions Marion Jones, Kelli White and Tim Montgomery.
And so ... it begins. Or ends. Or continues. Or ... well ... it does something that's gonna make sure Barry Bonds never, ever goes away. They'll get him one day, our pretties. That day might not be today ... but with this and the Mitchell report, we're gonna have ourselves one helluva steroids offseason. Woo hoo.