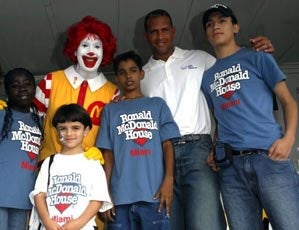 Say what you will about Barry Bonds, but we certainly owe him one favor: For 20 hours or so, he made everybody stop talking about Alex Rodriguez. We are sure Scott Boras is appreciative.
Anyway, this all is pretty much official now: A-Rod's gonna be back in the Bronx, and even though he's not gonna get this 10-year, $300 million deal, it'll be close enough for government work.
Rodriguez and his wife, Cynthia, met with Hank and Hal Steinbrenner on Wednesday in Tampa, Fla. Rodriguez told the Steinbrenners that he wanted to stay with the Yankees, and a 10-year contract that will guarantee him about $275 million is expected to be completed soon.

The Yankees typically do not offer bonuses for making All-Star teams or winning postseason awards. But Rodriguez's pursuit of the career home run record would bring increased revenue to the Yankees, and they are willing to share some of it.
So, basically, everyone came to their collective senses and made a reasonable deal that works for all sides. Man, Scott Boras really was left out of this whole negotiation!
Yankees May Pay Rodriguez For Home Run Record [New York Times]