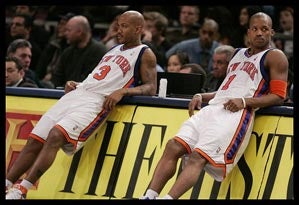 Someone told us this morning that Stephon Marbury is basketball's version of "30 Rock"'s Tracy Jordan. This makes a lot of sense to us. You get a sense that, deep down, each is probably a good-hearted person, but they're so many different kinds of crazy that it doesn't even matter. And they're almost equally entertaining to watch; we can absolutely imagine Marbury saying," the government is putting AIDS in our chicken nuggets!"
Anyway, the next stage of the Knicks traveling road show continues in Sacramento tonight, and even though his teammates want him off their team, Marbury still holds all the cards because of this infamous "dirt" he has on Isiah Thomas. God, god, GOD do we want to know what that is.
We'd like to take this moment to give a hearty salute to our commenters, who kicked up some old-fashioned comedy pyramid goodness Wednesday with their guesses to Isiah's offense. We honestly could read that thread all weekend.
Let The Mardy Collins Era Begin [Deadspin]
Team Votes Marbury Out [Newsday]