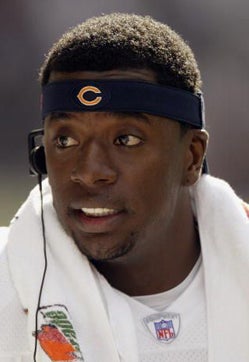 Denver at Chicago, CBS: The last time these two met, in 2003, the Bears defeated the Broncos with four field goals and a Kordell Stewart 1-yard touchdown run. Slash! Wow. There's a name I haven't heard since The Balls and Leitch got their Joe asses handed to 'em. Hey, crazy question: could he possibly be the Bears answer at QB? (Kordell, not Will or AJ.) It's got to be worth a shot, right? Someone get him on the phone. Try Bobby Love's first.
San Francisco at The Buzzsaw That Is The Arizona Cardinals, FOX: NFL.com just let me know that Buzzsaw quarterback Kurt Warner is 7-0 lifetime against the 49ers, passing for 2,188 yards and 17 touchdowns, with a passer rating of pretty, pretty good. Pink Taco Stadium queefs with anticipation.
Baltimore at San Diego, CBS: Need a few good reasons to keep watching this struggling Ravens team ? Yeah, me too. Thankfully, Ebony Bird has got our backs. I especially dig the 'Saga of Kyle Boller' reasoning.