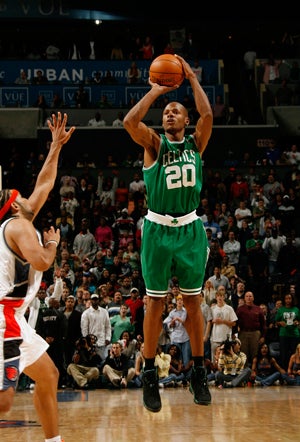 • He Got Clutch. How in the world does Boston keep pulling off these ridiculous wins? Wait! Don't answer that. I don't want to know. Ray Allen nailed a deep 3 at the buzzer after Eddie House — Eddie House! — knocked away Jason Richardson's inbounds pass to give Boston the 96-95 win, their third straight. Paul Pierce scored 23 points and Kevin Garnett had 23 points and 11 rebounds for the Celtics, who improve to 11-1.
• Try The Veal. "You can see my knowledge of (Dwyane Wade's) game — we were able to limit him to his season high points of 32." Ladies and gentlemen, Stan Van Gundy. Hedo Turkoglu scored 27 points and Rashard Lewis added 19 as Orlando handed Magic coach Stan Van Gundy's former team, Miami, its Eastern Conference-leading 10th loss. Bitch.
• A Complete Shitfest. The Nuggets mustered a season-low point total (81), shot 35 percent (28 of 79) and committed 18 turnovers against Houston last night. And guess what? They lost. Badly. To make matters worse, Kenyon Martin strained his right knee late in the first half and did not return. He'll be tickled and probed for evaluation in Denver on Sunday. McGrady scored 35 as the Rockets snapped a six-game losing streak.
• Fantasy. In the immortal words of Ol' Dirty Bastard, "Yo! Atlanta, Georgia, are you in the house?" Josh Smith scored 10 of his 16 in the fourth to help the Hawks — CAW! — erase a 21-point deficit against the T-Wolves. Final score: Atlanta 94, Minny 87. Smith added eight rebounds, five assists, five blocks and three steals.