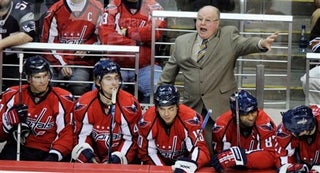 • In Boudreau They Trust. Alexander Ovechkin tickled twine twice and Michael Nylander had a goal and two assists as the Capitals won their second straight under interim coach Bruce Boudreau. Caps 5, Hurricanes 2. The consecutive victories are DC's first since early October, the end of a three-game winning streak that opened the season. Washington scratched Alexander Semin (sprained ankle), while David Tanabe (flu) and D Mike Commodore (obsolete) missed the game for Carolina.
• Teenage Mutant Ninja Penguins. Marc-Andre Fleury made 28 saves for his ninth career shutout, and Sidney Crosby added a goal and an assist as the Penguins' waddled over the Thrashers 5-0. Atlanta's back-to-back losses are the first time since Don Waddell took over as interim coach on October 17. Ha! Waddled ... Waddell ...
• It Was All A Blur. Nikolai Zherdev scored the winning shootout goal to lead the Garments past the Wings 3-2, despite allowing Detroit to tie the game with two goals in a team-record 5 seconds. Yes, seconds. The two-goal flash bettered the Wing's previous mark of 7 seconds, done in both 1936 and 1987.
• Damn, Gina. Martin Brodeur made 34 saves, and Brian Gionta scored twice during New Jersey's three-goal second period to lead the Devils past the Tampa Bay Lightning 3-2. Brodeur — who has a hilarious 'lil profile photo — stood tall in the third, when the Devils were outshot 14-1. The victory lifts New Jersey above .500 for the first time this season.