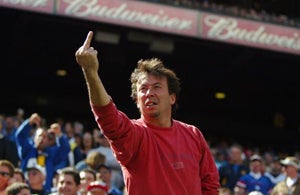 Type "Giants fan" into Google Images and that's one of the first images to grace your 15-inch monitor. Seems about right. Eli Manning is 6-for-garbage, with two interceptions. He threw four picks in his last meeting against the Vikes, so he's right on pace. Minnesota 24, New York Giants 7.
1st-10, Buffalo 45. J. Losman rushed up the middle for 1-yard loss. J. Losman fumbled. J. Losman is big fat piece of donkey shit. You know you really suck when the Gamecast starts calling you out. Jacksonville 13, Buffalo 7.
Buccaneers kicker Matt Bryant drinks a chocolate milkshake on the night before each of his football games. Fact. Bryant has four fieldgoals already from 35, 27, 48 and 39 yards. I suggest you play those numbers on the lottery. Tampa Bay 16, Washington 3.
Fuck you, Matt Hasselbeck. Fuck. You. St. Louis 19, Seattle 7.
The Klaus Daimler, Thanks A Lot For Not Picking Me Games
• Cleveland 14, Houston 10
• Cincinnati 14, Tennessee 6
• New Orleans 10, Carolina 3
• Kansas City 10, Oakland 6