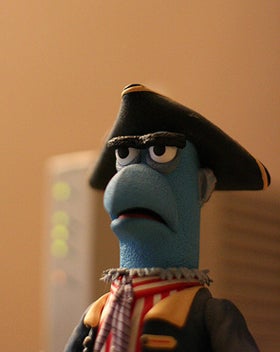 The biggest question regarding tonight's Eagles and Patriots game (8:15pm, NBC) isn't whether the Pats can keep their perfect season run alive. They will. It's whether or not this inevitable gong show will resemble anything even close to a competitive football game. It probably won't.
Oddsmakers currently have New England listed as 24.5-point favorites — the second largest line in NFL history. And though I'll lay my cold hard cash with Bill and his boys, you have to think a team will never be more motivated to cover a point-spread. I mean 25 points? Jeesh. That's just a dick to the eye.
QB Donovan McNabb will miss the game because of a sprained ankle, injured thumb and the runs. (Blame the Chunky Soup.) A.J. Feeley, who threw a pair of touchdowns in a win over the Dolphins last week, gets the start. A.J., quick word: the Pats are just a bit better than the Dolphins. Just. Best of luck, though.
And finally, if 48-10 blowout isn't your Sunday cup of tea, may I suggest you try and find a station airing Canadian Football League's 95th Grey Cup. It's the Saskatchewan Roughriders versus the Winnipeg Blue Bombers tonight, in what should be a pretty good game. Seriously. Grey Cup games are almost always close. And ooh, look, Lenny Kravitz is the halftime performance! What? Please stop laughing.
Enjoy the games, guys.