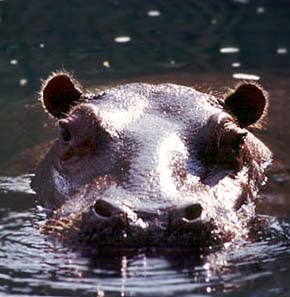 This story is a couple of days old, but by now you may know that the hippopotamus-in-the-swimming-pool story was a fake. Chargers' assistant coach Steve Crosby — who claimed that a hippo ended up in the pool at his Escondido home during the recent wildfires — admitted that the made up the story "to bring some levity to the Chargers' locker room." The beast was supposed to have escaped from the nearby San Diego Wildlife Park and invaded the coach's backyard, but there's only one problem: The Wildlife Park doesn't have hippos.
But once the story was told it unlocked countless believers with cheetah-like speed. "You know how players are," Crosby said. The media, too. Foxsports.com ran a story about it. It was mentioned on the CNN Web site. ESPN The Magazine had a nugget on it. The Seattle Times retold it. "The amazing thing is not one person in the media called to see if it was a true story," Crosby said. "They just reported it. It's crazy."
What does this have to say about journalistic responsibility in the age of new media? Don't ask me: I can't even get my printer to work. But I do think that there's an outside chance now that the entire Chargers' season has been a hoax all along. Other likely urban myths: Michael Vick dogfighting story ... Mark Mangino sighted in Steve Crosby's pool ... OJ hotel robbery ... Dennis Miller's show on Versus ... Coco Crisp.
Crosby's Hippo Story Was A Whale Of A Tale [North County Times]