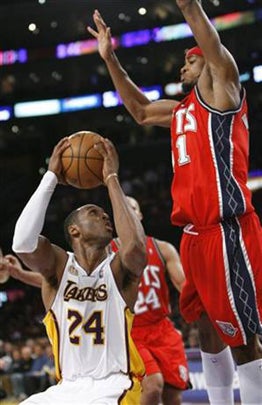 Was it just a few short months ago that Jason Kidd was practically a Los Angeles Laker? Just about everyone called it, then had to redact. Too bad. Instead of one great team (LA), we now have two mediocre ones. Bryant scored 31 points (on 7-of-31 shooting) for the Lakers, and Kidd had 15 points, 14 assists and seven rebounds for the Nets as New Jersey won, 102-100, on Sunday, holding off a furious LA rally at the end. It was the Nets' third straight win — all on the road — after a six-game losing streak. Richard Jefferson had 27 points.
• What's Wrong With Those Bulls? Where were you when the NBA's Jamario Moon Era dawned? Chris Bosh had 16 points and 13 rebounds, and Moon had a career-high 15 points to lead the Raptors over the Buls 93-78. It was Chicago's fourth straight loss.
• They're Not Booing ... Carlos Boozer had 36 points and 11 rebounds and Deron Williams — who apears to be fully recovered from a toe injury — had 21 points and 14 assists to lead the Jazz over the Pistons 103-93. Discuss.
• Timaaay! Tim Duncan's 26 points offset his team's slow start as the Spurs beat the Oklahoma City Seattle SuperSonics 116-101.