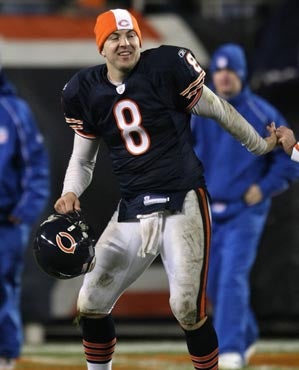 Tidbits and info smidgens from Week 12 in the NFL ...
• We kind of love that Rex Grossman got so excited after the Bears' bizarre win over the Broncos yesterday. It was a vintage Bears game; Only one offensive touchdown, an inspiring 17-for-33 day for Grossman, Cedric Benson with 47 yards and ... oh, two Devin Hester touchdowns. (This has led to a new KSK character.) And after the game, Grossman was jumping around like he'd just pulled off the Flutie Heave. Do you think he went home and told everyone, "I won the game! I got the Bears back on track!" and everyone just has to smile and nod and try to look away without giggling? We'll say it one more time: Bring Back Orton.
• It's downright comforting to see the Giants collapsing in the second-half of the season. It's a rite of November passage. Like watching leaves turn, or Isiah Thomas saying everything's going to plan. We're pretty sure it happened because Peyton was there watching. We bet he enjoyed it more than he'll ever admit too.
• Don't know if anybody caught this post-Patriots win, but if you saw it, Andrea Kremer's postgame interview with Wes Welker was awfully amusing. In the middle of it, Welker said, "Coach is calling me over, and he's the one man I hold over you." And he left. Al Michaels then says: "Coming, Mommy." Sounds about right.
• We imagine Merrill Hoge just dancing around Bristol today, reminding everyone how right he was about Vince Young. On days Young plays well, we suspect Hoge calls in sick.
• Has any quarterback ever received more playing time for doing less than David Carr? Yesterday, he was benched for Matt Moore, whoever the hell that is.
• Browns fever, friends: The legend of Horse Balls continues.
• We are absolutely not ready to talk about that Buzzsaw game yet. Maybe later.