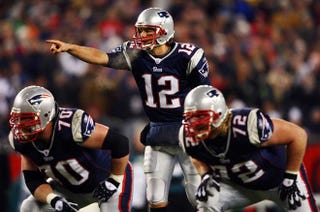 So, in the wake of the Patriots' near-loss last night, what have we learned, kids? Does this mean the supposedly inevitable undefeated season is in jeopardy? Does it mean the Patriots are about to get angry and start winning games by 70?
The Patriots are saying all the right things, about this being the NFL, and the NFL is difficult, and we understand all that ... but this whole Patriots mystique business has been based on imposing their will on everyone, at any point, simply because they can. It's not enough to win; it requires complete dominance. So when A.J. Feeley (mostly) picks your defense apart, and Randy Moss looks like the Oakland version ... one has to question the whole matter, yes? Put more simply: If that's Green Bay, Dallas or Pittsburgh last night, rather than Philadelphia, the Patriots lose last night. And that'd be worth seeing if just for the Belichick postgame handshake.
They're the Monday Night game next week, so we've got plenty of time to work ourselves up.