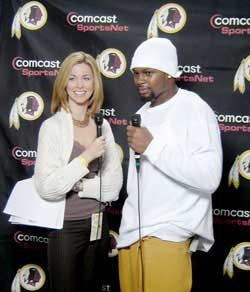 A very serious, scary situation developing in Florida this morning: Redskins safety Sean Taylor has been shot.
Pro Football Talk says Taylor is fighting for his life; they say he was shot when someone tried to burglarize his home. The Redskins have released a statement as well:
The Washington Redskins became aware of a situation this morning in which safety Sean Taylor was the victim of a shooting at his residence in Florida. The Miami Dade Police Department is currently investigating the situation. Taylor is currently undergoing treatment at Jackson Memorial Hospital in Florida.
More as it develops, obviously. Good thoughts toward Mr. Taylor, if you could.
Sean Taylor Shot [The Fanhouse]
(UPDATE: PFT says he has a "severed femoral artery" is in serious danger.)
(SECOND UPDATE: The Washington Post is giving updates on Taylor all day; it looks like Taylor is in a coma. Heavens.)