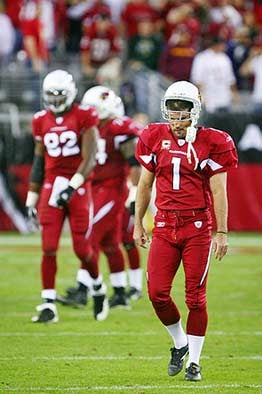 OK, we think we're ready to talk about that horrific Buzzsaw loss yesterday. First off, we absolutely deserved that to happen: Our post last week daydreaming about the playoffs broke every Buzzsaw fan law we know. No Arizona team should ever be favored by 10 1/2 points. Ever.
It's worth noting that Neil Rackers might be the worst clutch kicker in football; that's now four game-winning kicks he has missed in the last 13 months. When you play for the Buzzsaw, you can't miss those, particularly when they're 32 freaking yards. Though it didn't help that, on second down, they lost five yards (and a successful kick) on a delay of game penalty. After that, it was a matter of time until Kurt Warner's comically small hands muffed a play deep in the end zone. Our favorite quote was from Coach Whisenhunt afterwards, about the delay of game penalty: "The clock ran out fast," Whisenhunt said. "That's my fault." Time expires faster than usual in the vortex that is the Pink Taco.

The Buzzsaw went from a potential tie atop the NFC West — and a clear lead in the wild-card race — to being two games out with a smoking hot Browns team coming in next week. And we start all over again. When's baseball season again?
Same Old Story For Cards [Arizona Republic]