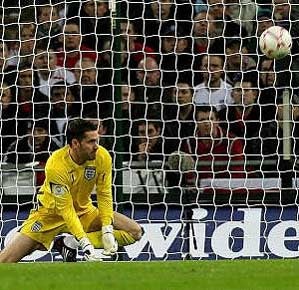 David Hirshey writes regularly for Deadspin about soccer.
Is it too early to gloat about England's failure to qualify for the World Cup? What's that you say? The draw for the 2010 World Cup qualifying was only announced yesterday? So technically no one has been eliminated yet. But really, now that they've proven themselves to be Euro trash, how can England possibly cope with the greatest country in the world, the number one exporter of potassium and prostitutes, the Glorious Nation of Kazakhstan, which has been drawn into the Three Lions' group. Wait, there is one way: Borat for England!
Hey, not only would he throw the Jews down the well, he might also defenestrate the whole so-called Golden Generation of Beckham, Gerrard and Lampard that left Wembley on Wednesday with their pants bunched around their ankles and a big steaming pile of dung on the cowpatch that passed for a 800 million pound pitch.
Seriously, could Borat do any worse than that clown McClaren who was so afraid of getting his hair — or whatever that quiff on the top of his head is supposed to be — wet that he took cover under an umbrella during the Croatia game. This, after hiding in the bathroom a week ago for the last 15 minutes of the Israel-Russia match, because he couldn't bear to watch the agonizing denouement of England's Euro campaign. At least Borat would have the balls to brave the elements, especially in his trademark wrestling outfit, and challenge the ref on any calls he didn't like: "Are you trying to tell me that man who tried to put a rubber fist up Rooney's anus is not homosexual?"
Plus, you know I love a man with a mustache thicker than mine.
Of course, Borat would not only have to figure out a way to beat his native Kazakhs, but everybody's favorite anti-semites, those gifted Croats, who, thanks to FIFA's sick sense of humor, are also in England's group. Ha! And let's not forget the Sheva-led Ukranianians who somehow reached the quarterfinals of last year's World Cup by boring opponents to sleep and the Belarussians who, if nothing else, boast the tricky genius of Arsenal's Alexander Hleb.

Yes, you can make the case that England got lucky in that they avoided Euro's Big Four — France, Italy, Spain or Germany — but at this point England would struggle with the USA's draw, which kicks off with a two-game roadkill series next June against Dominica or Barbados, ranked 189th and 124th respectively. How long before the English FA petitions FIFA for admission into CONCACAF?
Whether Fabio Capello, Jose Mourinho, Martin O'Neill, or yours truly (hey, I'll put my coaching record up against anyone: HC United is undefeated in its last 34 MetroSoccer League games and recently thrashed the New York Times 5-0!) is stupid enough to take the job of leading the Three Lions out of its sinkhole of humiliation, one thing is certain: It is time to say "Fuck off" to several of the team's signature players. Beckham, to his credit, made the one good pass England could muster Wednesday when his perfectly weighted cross found Crouch in the box, but his broken down chassis can no longer handle the pace of international competition. Lampard, by my count, kicked the ball twice (OK, so one was the PK), but he was as influential in midfield as I was sober on Thanksgiving. Gerrard, so lethal for Liverpool as evidenced by his surface- to-air free kick missile Saturday against Newcastle, can't impose his muscular stamp on the international game, partly because he was never sure of his role under McClaren. And is there any more tedious exercise than waiting for Michael Owen to recover from injury and reclaim his 2002 form?

The problem is that once you've used c-4 on the current foundation of the England team, what exactly is left standing? Rooney, of course, is still only 22, and has a brighter publishing career than, say, JT Leroy. Micah Richards is already a defensive colossus at 19. But what about the rest of the England's next generation of overhyped, undertalented prodigies? Scott Carson? His goalkeeping blunder against Croatia in his England debut was pure comedy gold and judging from his first save against Boro on Saturday — a sliced clearance that almost flew into his own goal — he is still suffering from Post-Traumatic Euro Stress Syndrome. Shaun Wright Phillips? Has he ever met a cul-de-sac he didn't want to run toward? Lennon, Agbonlahor, Ashley Young? All have shown flashes of promise but are untested on the world stage. Would you book a ticket to South Africa based on their potential?
That's why Borat is the only man for the job of England coach. He would come without any sentimental baggage and could evaluate the players with a gimlet eye. You can almost hear him saying to the British tabloid hacks, "How dare you make hand party over Theo Wolcott?"