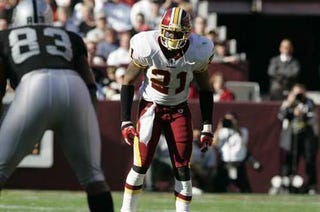 After struggling all day yesterday, Redskins safety Sean Taylor died this morning from his wounds after a shooting in his home Monday.
Taylor "did not make it through the night;" his femoral artery had been severed, and the bleeding "could not be stopped, just curbed." Michael Wilbon wrote yesterday that, "Taylor grew up in a violent world, embraced it, claimed it, loved to run in it and refused to divorce himself from it. He ain't the first and won't be the last." Taylor was shot after leaving the bed of his fiancee with his 18-month-old daughter just down the hall.
Taylor was 24 years old.
Sean Taylor Dies In Miami [Washington Post[