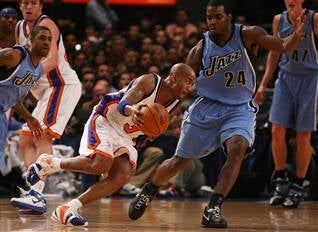 Not sure exactly what's going on, but just to be sure that God isn't up to some sort of Armageddon-like shenanigans, if you need me I'll be in a sealed grotto at the zoo. The Warriors — whom I believe began the season 0-6 — trounced the Suns on Monday, but that's not the big news. The Knicks have now won two in a row. The Knicks, folks.
In Oakland, Monta Ellis scored 15 consecutive points in the fourth quarter to finish with a career-high matching 31, as the Warriors snapped the Suns' eight-game winning streak with a 129-114 win. Stephen Jackson scored a season-high 32 pointsand Baron Davis had 28 points, 10 assists and six rebounds for Golden State, which has won six of seven. Meanwhile, Stephon Marbury had a season-high 28 points, as the Knicks beat the Utah Jazz 113-109. Not only that, but Isiah Thomas and Marbury seem to be best buddies now. I'm sorry, but I can't go on ... must put on fire-proof PJs in case earth is hurtling toward the sun ...
• Meanwhile, Trail Blazers Continue To Suck As Usual. Hedo Turkoglu had 21 points, Rashard Lewis had 20 and the Magic beat the Trail Blazers 85-74 to become the first NBA team to win 13 games this season. Orlando is 8-1 on the road.
• Mavericks Are Melting. Melting!. Caron Butler had 35 points and Antwan Jamison had 27 as the Wizards beat the Mavericks 110-98; and that's without Gilbert Arenas, mind you. Dallas has lost three straight.
• Revenge Of Beno. We predicted that the Spurs would rue the day that they traded Beno Udrih to the Kings; and we aren't even totally sure what "rue" means! Udrich scored a career-high 27 points against his former team as Sacramento snapped San Antonio's five-game winning streak with a 112-99 win.