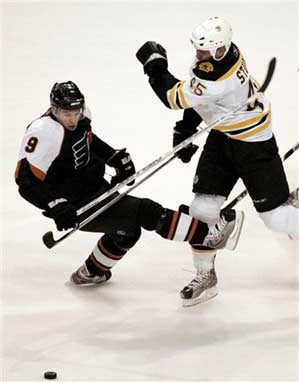 It's the NHL Closer. We pass the mic to the kids at Orland Kurtenblog. Their NHL Closer is written by Canadians for Americans.
Boston Bucks Beat Broad Street Bills. The Bruins got their revenge the Joe Buck-approved way: On the scoreboard ,with a 6-3 win over the Flyers. Nothing disgusting about that. As for Philly, they took the Bill Conlin approach with yet another display of idiocy. In the first meeting between the two teams since Oct. 27 when Philadelphia's Randy Jones injured Boston's Patrice Bergeron with a hit from behind, Scott Hartnell added to the big book of British smiles Flyer stupidity when he lowered the boom ('lowered" being the operative word) on Andrew Alberts, leaving the latter with an apparent head injury.
The play occurred late in the second as the Boston d-man was sliding on his knees along the boards. Going with the rationalization, "I finish my checks every time I have an opportunity," Hartnell nailed the defenseless Alberts. He'll probably get suspended, as you do when you're a Flyer.
Turco Gets the Win, But Still Loses. Dallas goalie Marty Turco got just his second start in six games and made 23 saves - many of them spectacular - as the Stars beat the Islanders 3-2 in overtime. Alas, it was one of the shots he didn't stop that made all the highlight reels. Here's how it went down: Turco skated out to get the puck. But Richard Park skated faster. Open net. See ya later. Yada yada yada, lots of empty seats at Nassau Coliseum, Mike Modano scored the winner in OT and Dallas has won six in a row.
The Sabres Are Finally Getting It. Buffalo won its fifth straight with a 3-1 victory over the lowly Washington Capitals. Said the Sabres' Jochen Hecht, who had two goals and an assist: "Before we were trying to make those pretty plays, through the legs, through the skates, and it just didn't work for us. It seems like those are the goals that are more common in the league ... odd bounces." Hecht went on to share that there's not much scoring in soccer and that the New England Patriots seem to be playing well.