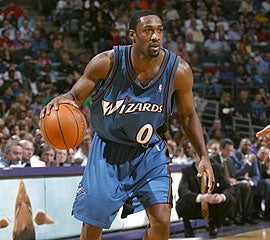 Gilbert Arenas will be lost to the Washington Wizards for three months. Official reason: knee surgery. But nowhere in the Wizards' press release will you find mention of Agent Zero's real disability. No amount of rehab will cure a broken heart. He writes about the breakup with his girlfriend on his blog:
Now she's back in California. You ask for space, you know, because everything feels closed in ... the house is dirty, the kids are drawing on the walls and on the couches and you're thinking, "Oh man, I can't do this. I'm not playing well and I'm coming home to all this." So you ask for space and now you got clean walls, clean furniture and you're lonely. And now you got to sit out three months. Oh man. I guess it has to get bad so it can get good.
We feel for you, man. And we have a feeling that The Blog File is going to be pretty interesting over the next few months.
Gilbert Arenas Has Done It Again. [With Leather]
Agent Zero: The Blog File