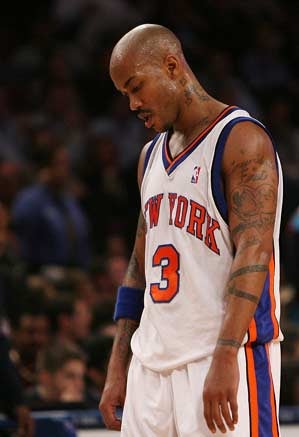 We know: The life of a beat reporter is a glamorous, joyous one. Every night is like a private party in which there are unicorns and rainbows. But when you're a Knicks beat reporter, you're living the life fantastic.
Seriously: This is clearly the most fun job in the world.
Frank Isola, the 12-year Knicks-beat veteran for the Daily News, said, "It used to be fun here. Now, there are some nights when you're trying to talk your boss out of sending you here and maybe lie and tell him you're sick or something."

"I'll admit," said Howard Beck, the New York Times Knicks reporter, "that the beat makes me miserable. The job, under the weight of the regime of Garden chairman James Dolan, has become the most demoralizing reporting gig in the city.
You know, we think the only person involved with the Knicks in any capacity right now who is enjoying himself is Stephon Marbury. Being allowed — encouraged! — to have sex with interns in the back of your truck ... well, that can be a morale booster.
Life In Knicks Hell [The New York Observer]