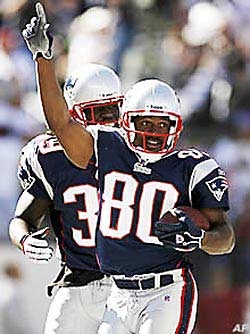 Today, we thank Bill Belichick for adding the one ingredient this otherwise-inspirational Patriots team has been missing: Troy Brown is back!
Brown is famous for being the most likable member of the Patriots championship teams; it seems sad he's had to miss out on the fun for so long. Though it's possible he's a monster Belhichick created in a lab.
Troy Brown: I AM FLESH, ONCE MORE!
Dr. Hobo: My creation, the ultimate team player, the one who battles beside me to the death, HE IS ALIVE!!!! Brown: What is your bidding, Doctor?
Dr. Hobo: Dear Troy, I only wish you to join me as we take the champagne from those old, ungrateful and snarky louts of Miami as we send the unreasonable facsimile in their place to the ignominy of a winless season.
Brown: I will be by your side, yet again, as you wish.
Dr. Hobo: MUAHAHAHAHAHA!
That sounds about right.
My Creation, It Lives Again [Signal To Noise]