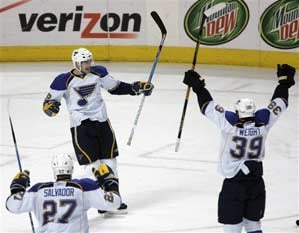 It's the NHL Closer. We pass the mic to the kids at Orland Kurtenblog. Their NHL Closer is written by Canadians for Americans.
Twelve Years is a Long Time. Brad Boyes broke the tie for the visiting Blues with just 58 seconds left in the third as St. Louis edged Buffalo 4-3. No surprise there; the last time the Sabres beat the Blues in Buffalo was in October 1995. Back then, Pat LaFontaine was the team's leading scorer and Israeli Prime Minister Yitzhak Rabin was still alive...but only just. It's a shame he didn't have Wikipedia to tell him not to go to Tel Aviv the next month. But, hey, the Closer is no place for serious stuff. You are missed, Mr. LaFontaine.
Mueller Time in Minny. Minnesota got another goal from Marian Gaborik, his fourth in four games, and the Wild beat Phoenix 3-1. For goalie Ilya Bryzgalov, who was waived by Anaheim on Nov. 16, the loss was his first in five games as a Coyote. Despite the outcome, it was a special night for rookie Peter Mueller, who played professionally for the first time in his home state. "He's a 19-year-old who still could be playing juniors, and he's one of our better offensive players," Coyotes coach Wayne Gretzky told the Star Tribune. "Hear that, boys? Nine-fucking-teen," Gretz most certainly did not add.
Havlat is a Big Boy Now. The Chicago Blackhawks got two goals from the triumphantly returning Martin Havlat on the way to hammering Tampa Bay 5-1. Havlat missed 22 games after injuring his shoulder in the season opener. Youngster Patrick Sharp also scored for the 'Hawks after skipping two games with the flu while Dustin Byfuglien and Jonathan Toews got the other Chicago tallies. "I just wanted to be helpful," Havlat said after the game, which was adorable. He also helped mommy set the table and was personally responsible for peeling the bananas in the fruit salad.