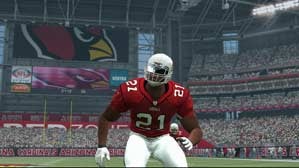 We still don't think Michael Wilbon's chat comments were in particularly good taste — and who's more experts on good taste than us? — but he's not the only one questioning whether the death of Sean Taylor was just some random break-in. Cardinals cornerback Antrel Rolle, who also went to the U and knew Taylor, is mincing no words.
Rolle makes it clear, without having any specific inside knowledge, that he doesn't think this was random at all.
He really didn't say too much," Rolle said, "but I know he lived his life pretty much scared every day of his life when he was down in Miami because those people were targeting him. At least, he's got peace now."

"They say it was a burglary. It absolutely was not a burglary," he said. "Down South, where we're from, there were many people talking to Sean, a lot of jealousy, a lot of angry people."
We're not sure this was the kind of peace Sean was looking for, Antrel, but thanks for your input. We're gonna know a heckuva lot more in a week than we do now.
Rolle: Slain NFL Star Had Many Enemies [East Valley Tribune]