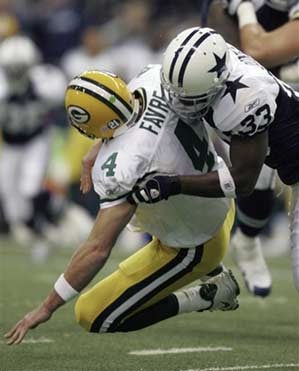 Of all the possible scenarios going into last night's Epic And Unwatched De Facto NFC Championship Game, the one we hadn't considered involved Brett Favre getting hurt and pulled in the second quarter. The only scenario less likely was Aaron Rodgers actually bringing the Packers back ... and that almost happened.
That said, as Matt Mosely points out, Favre wasn't exactly tearing it up before he hurt himself either. We just returned from a quick, one-day trip to Dallas — we left before the game started — and we had no idea Tony Romo had been promoted to Roger Staubach status. The guy actually was on the radio doing an advertisement for Curves, the female weight loss gym. The guy should run for mayor. Say what you will about Cowboys fans, but they don't hold grudges; nobody remembers the whole playoff business from last year.
When you're 11-1, we suppose it's easy to let that slide. Favre's supposed to be back next week, because he's an American Hero.
Cowboys-Packers: The Aftermath [HashMarks]