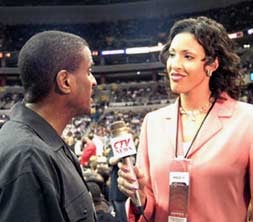 We've always enjoyed David Aldridge; he seems like one of those guys who found his true self once he left ESPN. We appreciate that he keeps the sports for what they are, and knows who he is: He's an information guy, and he's one of the best. But he knows when to step out and make his voice heard when the time comes, and the time has come.
Aldridge's take today on the Sean Taylor story is the best we've seen yet.
Sean Taylor, while no saint, was not a "thug." He didn't grow up in the 'hood. He went to private schools before college. And even if he was a thug - whatever that is - or embraced that culture during one part of his life, that doesn't mean he deserved to die in front of his child and fiancée, in his home, bothering no one.

I'm angry that people cry about Sean Taylor's death because he was an outstanding football player, as if his death has extra meaning because he had great closing speed. This is not about sports. We have buried 200 Sean Taylors in this city this year. We don't know what would have come of their dreams and hopes. They deserve our tears, too, for they may have been anonymous to you, but they weren't to their mothers and fathers, their best friends and lovers, their teachers and mentors.
That David Aldridge is a less ubiquitous presence on our airwaves than Stephen A. Smith is as fierce an indictment of our sports media world as we can imagine.
Time To Stop All The Dying [Philadelphia Inquirer]