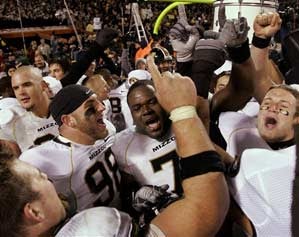 Some might say there's no legitimate national champion this year, but that seems beside the point: We play sports to crown a champion, and if no one necessarily deserves it, what's wrong with that? It's nice to have a winner.
Missouri and West Virginia are just one win away from reaching the national championship game, and that's such an insane notion that we can't help but embrace it. As much as we'd enjoy watching our Illini in the Rose Bowl — which will likely happen if either team loses, putting Ohio State in the BCS title game — we are smitten with the unconventional Mizzou-WVU game. It seems like a championship game you'd only see on a video game.
And if they both lose ... heck, chaos ensues. And that's all anyone wants, really.
What A Bunch Of Losers [Slate]