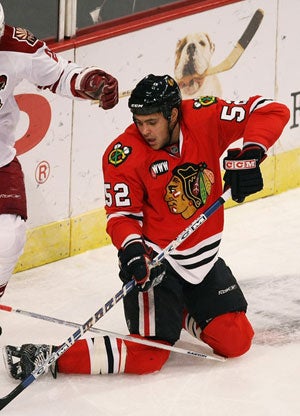 • I'd Like To See Where These Hats You Speak Of Grow In Nature. By the time Dustin Byfuglien's reign of terror began over Phoenix, it was already 2-0 Blackhawks. And that's when his hat trick on consecutive goals occurred — in the first quarter. It was only 5-0 after one trimester, and the Hawks had scored five goals on seven shots. If nobody wants to give Ilya Bryzgalov credit for the two goals he stopped, then I will. Great two saves, Bryzgalov. Byfuglien threw in a fourth point in an assist for good measure, and after a 6-1 blowout, Chicago is tied for second in the Western Conference with 30 points.
• Which Came First? The chicken or the egg? Byfuglien's natural hat trick or Zach Parise's? It doesn't matter which came first, because both are delicious, assuming you're not at McDonald's. The New Jersey Devils won 4-0 over the Montral Canadiens, and that fourth goal was assisted by Parise as well. The once-struggling Devils push their winning streak up to six games.
• Made Marian. How is this game considered wild? It was merely a routine 3-2 overtime win by the Minnesota ... ah, that's their team mascot. Why WNBA teams are playing in the NHL is beyond me. Marian Gaborik's overtime goal with minutes left in extra time gave the Minnesota Wild their first OT victory.
• It's Opposite Land. Let's see what 37-year-old dude Rod Brind'Amour thinks about his two-goal performance in Carolina's 4-3 win over the Washington Capitals: "The other night I played pretty well and got nothing. Tonight, I played horrible and got a couple of goals." And a veteran learns his lesson. Just play like crap from here on out and the Hurricanes ought to win out. Just try it.