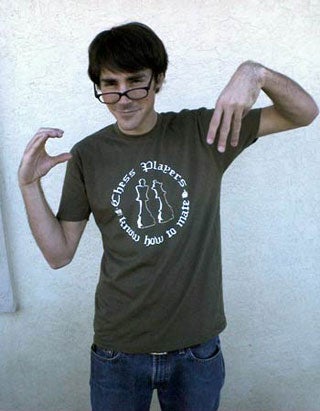 Today's high school student-athletes face so many more distractions than yesteryear, even at the high school level: national media scrutiny, drugs, and pretty girls. Not so with chess players (such as the one pictured here — I believe this is a young Keith Olbermann) although they have it tough as well. They can't always find a stable Wi-Fi connection at school to play World of Warcraft between classes. Some also suffer from chronic backne. But what once separated chess players from the rest of the varsity world was their ability to play by the rules. Now the lines are blurred.
South Carolina's Bowman Academy has to return their second place trophy in a statewide chess tournament after they used an ineligible player. One of the original 13 entrants couldn't show up, so the team sponsor put in his home-schooled son, who turned out to be a ringer and just kept winning chess matches.
"I did not intend for it to happen this way. ... I did not intend to win a trophy. I had one kid missing and one extra kid standing by," Davis said. And he says, it being his first SCISA event, he didn't understand the severity of the problem.
So the disgraced father, also church pastor, has resigned his position with the school and will in all likelihood diagonally move on to other things.
Good Knight! [Times & Democrat]