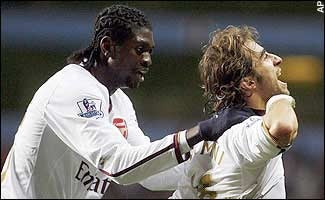 David Hirshey writes regularly for Deadspin about soccer.
Let's face it, Arsenal fans are all about spreading the love, letting it trickle down from the summit of the Premiership to those less fortunate than us. In other words, everybody else. All we ask in return is a little respect and lots of free beers.
So when a bunch of the Newcastle faithful invaded the sanctity of our clubhouse otherwise known as Kinsale Tavern and started acting as if they were drunk at home in the Stadium of Light, they had to be put in their place, which some thought was face down in a icy pile of dogshit on a New York sidewalk.
Let me explain. A wintry blast of snow, ice and sleet hit New York City this past weekend with the force of Joey Barton plunging his studs into the groin of a former teammate. Basically, it was so cold and dreary out, we might as well have been in Newcastle. If you haven't been to that lovely damp, grey, blue-collar corner of England, let me just say that there isn't a whole lot to do other than root for your perpetually underachieving football club and drink yourself to death. Which explains why the Newcastle fans at Kinsale had been imbibing their breakfast since 9 a.m.
They were understandably desperate to blot out the fact that their free-falling Magpies had suffered a 3-1 dickstomping by Blackburn that saw Barton unable to push the ball - and several bodies - over the line from three yards out in an incredible goalmouth melee. But is that any excuse to keep the always clever "Arsenal sucks" drumbeat going throughout the first half of the Villa game?
My man Rajah certainly didn't think so. A former college linebacker (it was Amherst but still) who fills out an Arsenal jersey with his 6'1, 250 lb. frame, he gave the Newcastle Three one of those looks he used to reserve for Williams players he was about to decapitate.
"It's about to go off," said Lingering Bursitis , a neutral observer in a Liverpool kit. "I haven't been in a good fight since my rugby days."
Up until then I had been hunkered at the bar facing the big screen and marveling at the sweet interplay between Hleb, Rosickyand Eboue that carved open the Villa defense for goals by Flamini and Adebayour to give us a 2- 1 lead at intermission. Then I felt a tap on my shoulder and smelled a whiff of Guinness-scented breath on my neck (or was it Beckham's new fragrance ?). I was prepared to turn around and be nose to nose with my enemy like at the Haddon-Maywether weigh-in. Imagine my surprise when I swiveled and there was the outstretched hand of one of the Newcastle fans.
"Aren't you the guy from Deadspin?, " he said amiably, "You write some quality shit but I hate your team."
"Why's that?" I asked, flexing my mustache menacingly.
"Because you're too good," he explained "All you do is ping the ball around and then walk it into the goal."
"Would you rather we just hoof it down the field like your lot?" I said in my best fake Madonna English accent.
"We have to fight for every ball, but that's exciting, " he said. "You saw that goalmouth scramble. Barton, Smith and Butt were hurling themselves around in the box like their lives depended on it."
"Speaking of Smith," I said. "what's with that mohawk he's rocking? It looks like a dead wombat on his head."
That seemed to defuse things. As we like to say at Deadspin, "Better a cheap laugh than a cheap shot." It turns out that my Magpie man has some serious soccer cred even if he supports a mid-table mediocrity in the Prem. His name is Ian Fuller and he starred at Clemson during the glory days of the late 90's before going on to play for the Charleston Battery of the A-League, one rung down from the MLS, if such a thing is possible.
"People say that we have the best clubhouse bar in the country," he said. " You ought to come down and try it."
(Note to self: Ask Leitch to fund a Charleston trip so I can compare and contrast the best soccer bars in America to get drunk in).

With that, the Newcastle Three were off, disappearing out the door but not before hurling one last friendly cry of "Arsenal sucks" over their shoulders. And, on this day, they were right—at least for the second half. It is a testament to the resilience of our back four, anchored masterfully by captain Gallas that we withstood the fusillade of Villa chances over the next 45 minutes. The result puts Arsenal five points clear at the top—until ManU beats Fulham later today—but Chelsea and Liverpool are still hovering in the rearview mirror and based on the Reds' comprehensive 4-0 rout of Bolton and the resurgent form of Gerrard and Torres, they scare me more than the others.
"Plus," said my Liverpool friend Lingering Bursitis. "we're playing sexy football."
"Hey man, don't ask, don't tell, " I said. Apparently I'm not ready to spread that much love.